Here's what people have to say about B In Touch Massage Therapy:
---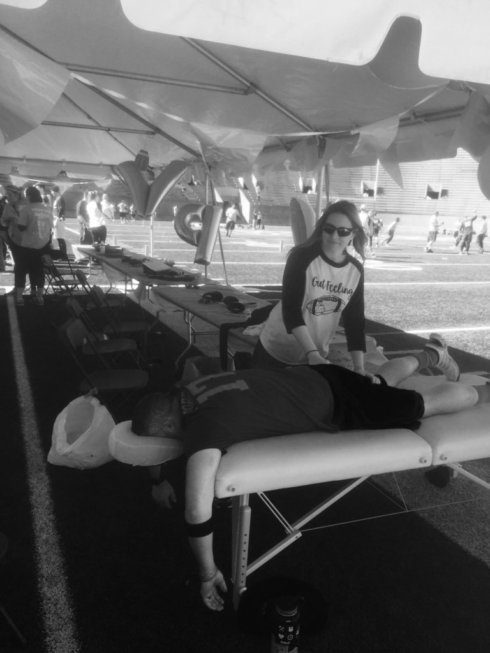 I experienced my first Ashiatsu massage from Lindsey at B In Touch and it was incredible. I was unaware this massage modality even existed and I immediately felt the benefits as my mid and lower back opened up and I am still feeling loose two days later. Lindsey was able to give me the exact pressure I was looking for and was meticulous with every stroke. I couldn't recommend her more and can't wait for the next session!
Sam R
Tabitha is incredible. Her techniques take massages to a new level. Whenever I have her I feel great when I leave.
You have a very special place. I have been trying a lot of places for massage and yours is by far the best. Yes, I've been to several fancy spas in very large hotels, like Las Vegas, LA, and New York. I've also tried several countries in Latin America. What is special about your place is that everyone who works there is happy to give the massage and they always give something extra - it's not only physical, it's a kind of magic.
Marcel B
My first impression of Sabine was the extraordinary sensitivity and aliveness of her hands. I was impressed by the many tiny gradations of experience she located in my feet. It was as if you were carefully turning over onion-skin thin pages of a book I'd never read before. Previously I thought of therapy as a matter of exertion and massage as a matter of pressure, but she revealed to me the power of subtlety. I came in feeling anxious and ill at ease, and I walked away feeling calmed and comforted, and much more at ease.
During the day I began to feel gradually better and better and by bedtime I was more relaxed than I've been in quite some time!
Jim
Just wanted to reach out to you and let you know how grateful I am that you connected me with Kim for my monthly massage. I have never felt better physically and am always in a relaxed state of mind afterwards which to me is equally as important! She is a gifted therapist and a very caring person as well. And I would be remiss not to mention Lindsey as well as I have been fortunate to have her as well a couple of times - very understanding of my physical issues and also an incredibly talented therapist! Both Lindsey and Kim are life-changing!
anonymous
Earlier this week, I had a 90-minute session with Bethany concerning tightened lower back muscles. I was very concerned because starting yesterday I had 5 straight days of golf. Simply stated, she was simply fantastic. Mostly deep tissue and Myofascial Release. She worked extremely hard throughout the full 90 minutes. Very impressed.
You have such a great team....yourself, Mike, Kimberly, Tim....thank you for having such a stellar staff to choose from.
Jack M
I don't have MaryAnn's email so please share this with her. I saw my (personal training) client today and before we even started the session, she was raving about the bodywork she had with MaryAnn. She's convinced that if she could get on her table every week, her neck and shoulder pain would be gone. She added "Bonnie's staff is incredible - everyone is so good and so different!"
Thanks again for having a practice I love (and trust) sending my clients to. Keep up the great work!
a
"I wanted to pass along a test message that a patient of mine wrote to me today"
Another huge positive review for MaryAnn! She is very intuitive and knowledgeable, and does many of the things you do to diagnose the issue. She worked my psoas, back of my knee, foot, etc. and gave me tips on trigger point release at home. It wasn't fun but it was effective!!
Julie Graves, Chiropractor
Thank you so much for getting me in to see Bethany yesterday. She was extremely helpful and even found some spots that I couldn't have identified for her. Everyone who works at B In Touch is so talented and so ready to help - as someone who has found such relief from massage, I couldn't have made it this far into my pregnancy without you all! (Not to mention I haven't had to take my headache meds in 6 years). Thank you again!
B In Touch client
I understand you'll be the lucky recipient of Kimberly's abhyanga massage later this month, and as her very first abhyanga client, I just wanted to let you know how wonderful it was.
The sensation of being massaged in a liberal amount of warm oil, And especially with a little extra attention on the head and scalp, feels fantastic. Immediately afterwards I was extremely, deeply relaxed, perhaps even a little bit out of it! The only other time I've been so deeply relaxed was the first time I received Ashiatsu from Kimberly!
Stan
Sabine is a wonderful blend of magician, detective, and relaxation specialist. What a wonderful way to help my body and mind heal, aided by someone who's calm, inquisitive, and has wonderful hands. Thank you Sabine!
Julie
As I told Caitlyn, I am not new to therapeutic massage, so that was both good and bad for her; good because I know what my body needs, and I can tell her; bad, because I have been lucky enough to work with great therapists, so she had a lot to live up to....Caitlyn was fantastic. You should be proud to have her on your staff. She not only gives a terrific massage, but she also is a wonderful listener, which makes her an even better service provider. She listened to my words as well as how my body responded, and I feel great!
Susan
"Fabulous! My back was so sore yesterday...I was able to get an appointment with Caitlyn. I had not had a massage with her before. She is incredibly good, and I feel soooooo much better."
Betty W
The massage was out of this world. Bethany was great and for my first time getting professional massage, I was left without words. I feel better in my movement and it's safe to say that my body is thanking me. Thank you again for your generosity and for taking the time to pencil me in. I will be back in sometime soon.
GMC
Leah ~ just wanted to let you know that the work you did on me last Saturday cleared up the pain that I was having under my right hip bone. I don't know how you managed to get to that muscle, but you sure let him have it!!!!! I was dealing with that pain for over two months before I saw you.
Thank you thank you thank you. I'll be seeing you again.
C
"Thank you so much for getting me in to see Bethany yesterday.
She was extremely helpful and even found some spots that I couldn't have identified for her.
Everyone who works at B In Touch is so talented and so ready to help - as someone who has found such relief from massage - I couldn't have made it this far into this pregnancy without you all! (Not to mention I haven't had to take my headache meds in 6 years)
Thank you again!"
Leigh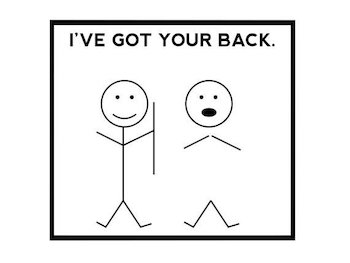 "I had a GREAT massage today! BUT what I wanted to tell you is how much I LOVE your office, your work ethic and all the therapists you work with. I have had a massage now by Jennifer and Lindsey in hopes to replace Mike (while he's out) and although none are a replacement (I am loyal you know).....they are all so dedicated and wonderful. I am always so amazed by how HARD it is to give a massage and have a conversation with your client at the same time! The focus and concentration is amazing but all are so good at it!
I am looking forward to 2015 and my ironman Maryland race (10/3/15) with sheer excitement and enthusiasm that you and your group will again be a part of it!!!!!!"
Dr. Tamara T, Needham MA
"Lindsey, Just want to thank you for the amazing massage yesterday. I slept deeply and woke up feeling at ease in my body, particularly neck and shoulders! My body is in alignment today, thanks to you. I look forward to seeing you again!"
Jane
"I will continue massages post-marathon...I feel like it has been doing wonders not only for my physical health, but also my emotional health. There is something about learning to receive care and to make space for oneself for regular relaxation that is very healing."
B In Touch client since 2009
"I highly recommend Kimberly Hogan at B In Touch for her special expertise and cognoscenti in Ashiastu massage therapy. Her tremendous skill and positive energy resulted in significant improvements in my health. Kimberly's effectuated therapy removed my left shoulder pain, and increased my upper body flexibility. A confluence of Ashiastu therapy and positive thinking has left me feeling great! Moreover, this new found energy enabled me to combine a healthier eating attitude with a new regiment of exercises which in turn, improved my strength and reduced my weight significantly."
Matt, Needham MA
"Mike's massage last Sunday was nothing short of miraculous. I had gone riding on Friday and felt awful by Sunday. He got my hip to release, and I was completely free of pain after. Pretty darned amazing. Thanks Mike!"
Pam K
"I was so stressed when I came in, thinking about a million things. I think you just added 3 years to my life."
Matt M
"Lindsey gave me a fantastic, wonderful, amazing massage!!! Thank you!!"
Diana C, Needham, MA
"Kimberly! You will be overjoyed to hear that the therapy on my left leg and foot yesterday helped immensely! So far today I can walk without pain in my left foot. It is like a miracle on Manning Street! You are indeed a miracle worker."
Doris C, with permission
"I'm so pleased to say that the neck & shoulder massage before my medical procedure did help alleviate discomfort! The first day, the scan had to be repeated due to a computer glitch, so my arms were above my head for 40 minutes, but I did fine. The second day was great; I had no discomfort at all during the 20 minute scan. Michael did a great job, and I'm so glad I had the massage. Thanks for your support in this process!"
B In Touch client, Needham MA
"A few years ago I decided to do something about my sedentary lifestyle and get into shape again. I joined a local health club and, though I diligently walked on the treadmill three times per week, I always ended up with cramps in my legs and aches in my hip and back. The pain was annoying enough that I kept my treadmill workouts short and slow.
One day as I was entering the fitness club, one of the trainers spoke to me. Although she was usually animated and vivacious, this time her voice was slow and a whole octave lower. When I asked about the reason for the personality makeover, the trainer pointed at Bonnie and said, "I've just come out of my massage. Try it."
Well, I signed up for a massage with Bonnie on the spot and the next week, after my treadmill session, I had my first massage. Under Bonnie's skillful hands, I came out of the massage session totally relaxed. What's more, my usual post-treadmill aches and pains had disappeared. Of course, I signed up for another massage - and I've been seeing Bonnie once a month since then. I love her massages for so many reasons!
Getting rid of some of my muscle stiffness helped me to use better posture when I was on the treadmill. The aches and pains completely disappeared and I was able to increase the length of time and the intensity of my treadmill workouts. The pains have never come back and I am way more fit now than I ever would have been without the massages.
My monthly massage session with Bonnie is my special reward to myself. The soft light, the quiet music, the warmth, the feeling of relaxation as each set of muscles is kneaded free of its tension... what a delight! It's the best!"
Sara C, Needham, MA
"Amazing...I can actually relax my shoulders, and it's great to be able to turn my head again! You also managed to clear up my sinuses - I can breathe on the left side for the first time in two months. You are the best primary care treatment for me!!!!!…You are the solution to activity, which keeps me from immobility, pain, and ensuing depression. Most important for me, I think, is that your treatments enable me to maintain an active life style as I age, and will keep me able to live independently with better quality of life."
Nancy Haase, with permission
"As both a client of and a physician who refers patients to B in Touch - I have been consistently pleased with the care. My patients have all benefited greatly - whether for back pain, headaches, insomnia, anxiety, or general pains. Bonnie keeps me in shape as well - my own neck and back used to limit my work day. With exercise and massage therapy, I can work, raise my children, and keep active in sports without pain. I rely on Bonnie and her team to keep me and my patients smiling!"
Jane, Internist
"I have really enjoyed becoming acquainted with the therapy of massage instead of the stereotype of it. As someone who historically hadn't 'splurged' on this for myself, I now have a respect for the medicinal, therapeutic benefit. As we Baby Boomers continue on life's journey, it is another tool to use in holistically staying healthy. You and your staff are true professionals, both in demeanor and skill. I have had the pleasure of recommending your business to others and wish you the utmost success!
Thanks and best wishes for continued success!"
Kathy Jurgens, RN, MS, PNP-BC, with permission
"I just wanted to report my wonderful experience with Mike yesterday!! He gets it, has the gift and was able to read my body's needs and spend time exactly where (and how) I needed it. He is a delightful young man. I have been looking for somebody who knows reflexology for years and was also quite thrilled that this is an area of interest and practice for Mike. Thanks again!"
Linda, Needham, MA
"My body doesn't just feel better, it works better because of my regular massages at B In Touch. It's such an important part of my overall health and fitness routine. I have so much confidence in the knowledge and ability of all of their therapists, giving me the confidence as a personal trainer to refer many of my clients there, which adds value to my own business."
Audrey, Personal Trainer
Needham, MA
"Two years ago, I suffered severe disability due to complications from Diabetes. I immediately started a program of physical therapy, which increased my mobility and overall strength. However, my muscles still ached! About six months ago, my doctor recommended that I start a program of Massage Therapy at B In Touch. My muscle aches have diminished and I have a more positive attitute toward my disability."
Sid, Needham, MA
"I have tried other practices and none have come near to the quality of the service you and your team provide."
Chris M