Massage Therapy is the perfect gift for almost everyone - the busy executive, the sore athlete, the post-physical therapy healing process, the tired parent, etc! Choose from an assortment of amounts/services, via the payment methods below. Our response and delivery time is quick, which also makes our practice a great choice for that last-minute birthday party, housewarming gift, or "Oops, I forgot someone on my Christmas list!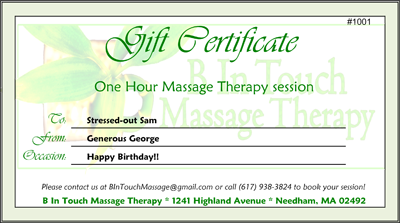 ---
Purchasing a gift certificate online
There are two online options for purchasing B In Touch gift certificates.
---
Option 2 - Flat Amount

Or, you can purchase a flat amount with PayPal.
---
---
Purchasing a gift certificate over the phone
Call us at (781) 400-1257 to purchase a gift certificate over the phone!
---
Purchasing a gift certificate in person
Due to COVID-19 and social-distancing protocol, we kindly ask that you attempt to purchase our certificates online or over the phone whenever possible. We are happy to make in-person arrangements if you need a hard copy certificate immediately.
If you'd like to stop by to purchase your gift certificate, please contact us so we can arrange for someone to meet you at our Needham location, as we are open by appointment only and do not have full-time front desk coverage.
We will gladly mail or email a gift certificate to you or the intended recipient, if needed!